Things to do
Osaka is a surprisingly massive city that's too often overshadowed by Tokyo. For example, its economy, as measured by GDP, makes it the 7th biggest city in the world just after Paris.Osaka forms one contiguous urban area with neighboring Kyoto and Kobe. This region, known as the Keihanshin Metropolitan Area, has a population of 19 million people. Osaka isn't just big, it's unique. Many people are surprised to find that Osaka has a completely different personality from Tokyo. Where Tokyo is reserved, Osaka is extravagant. Where Tokyo is shy, Osaka is warm and outgoing.Amongst Osaka's many attractions, these stand out:
1. Dotonbori and Namba
Dotonbori is a former pleasure and theater district. These days it's better known for its restaurants and shops with bright neon lights and elaborate store front displays.Dotonbori is a single street running alongside the Dotonbori canal in Namba (Osaka's main shopping and entertainment area).Dotonbori features several famous restaurants for local fare such as takoyaki and okonomiyaki. Its neon lights are some of Asia's best. It has a lively atmosphere.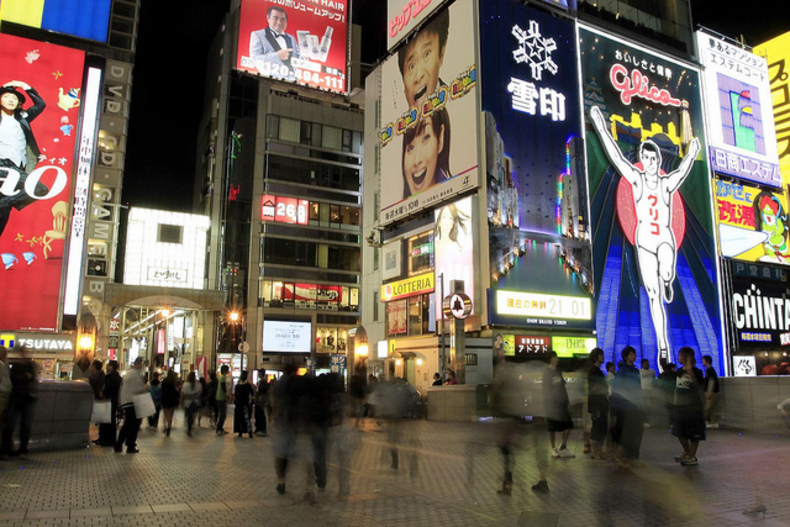 Osaka's 1000 year old festival at the end of July recreates a procession of a 8th century Imperial court. The festival includes fireworks, river boat bonfires, geisha and mikoshi.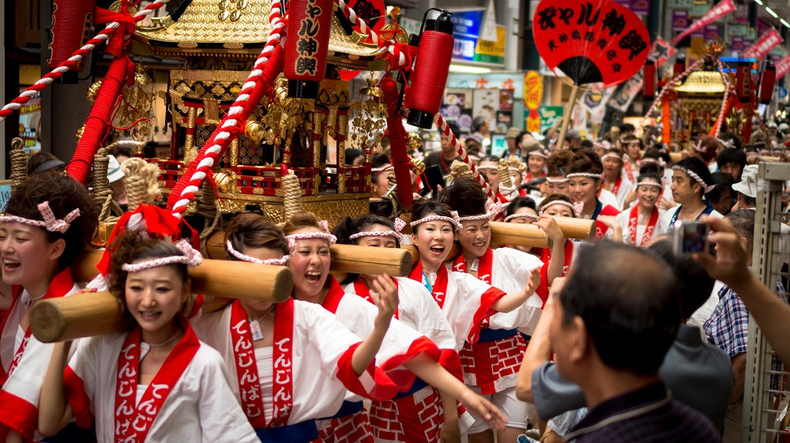 3. Sumiyoshi-taisha Shrine
After visiting the shrines and temples of Kyoto you'll notice that there's something different about Sumiyoshi-taisha Shrine. It's one of the oldest shrines in Japan. It was founded in the year 211 — before Chinese architecture influenced the design of temples in Japan. Its architecture is purely Japanese.Sumiyoshi-taisha enshrines three gods (kami) said to protect travelers, fishermen and sailors. The shrine is heavily used by locals — its packed on New Years Day.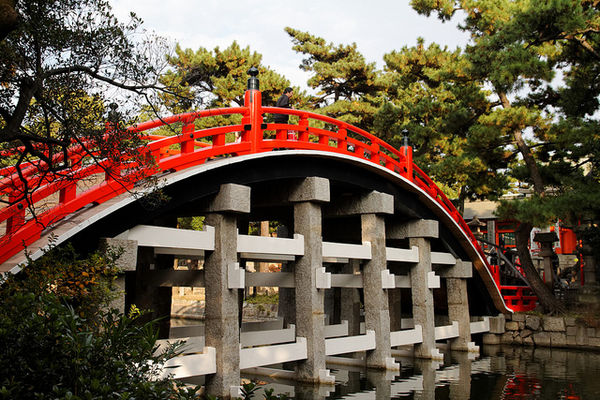 4. Hanshin Tigers
The fiercest rivalry in Japanese baseball is between the Hanshin Tigers and the Yomiuri Giants of Tokyo.Tigers fans love their team but more than that — they intensely dislike the Giants. Seeing a Tigers game is a recommended experience. The fans are fun.They play in Nishinomiya (between Osaka and Kobe) just outside of town at the Koshien Stadium. Koshien Stadium is one of three stadiums in Japan that still has natural grass. They play season openers and the month of August in Osaka dome.There's another professional baseball team in Osaka — the Orix Buffaloes. They play their home games at Osaka dome.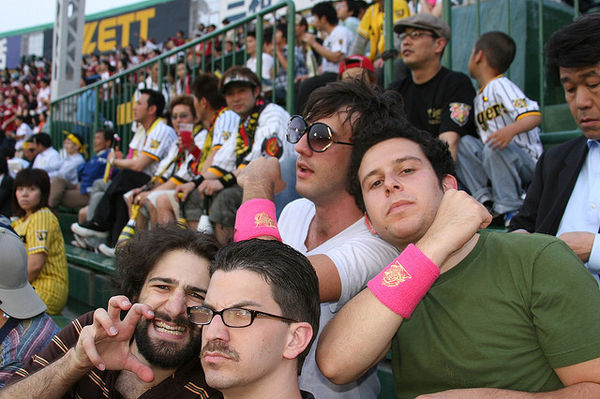 5. NGK Comedy Theater
Comedy doesn't translate well. There's Japanese slang for a joke that isn't funny — "American joke".Unless you're a diehard fan, it's unlikely you'll find Japanese comics funny. Especially if you don't speak Japanese. Nonetheless, Osaka is famous for comedians. Osaka comedy tends to incorporate slapstick silliness that's fun to watch. It'll be an experience you're not likely to forget.The Nanba Grand Kagetsu theatre is the best place in Japan to see Japanese comedy in action.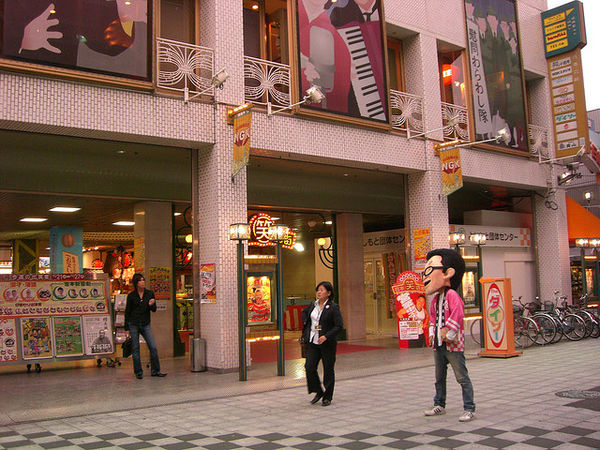 6. Shinsaibashi
A large shopping district centered around the Shinsaibashi Shopping Arcade.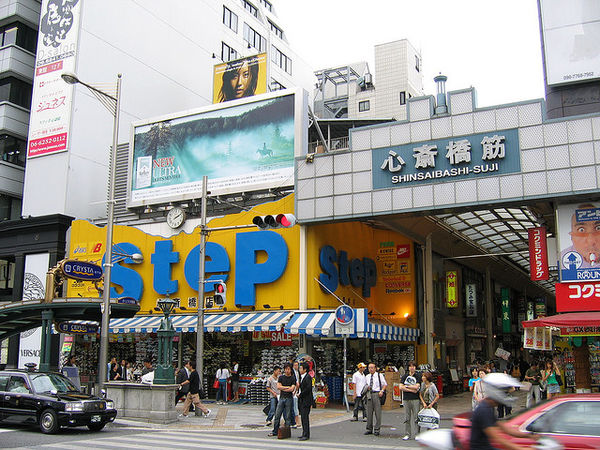 7. Universal Studios Japan
Universal Studios Japan is very similar to Universal Orlando Resort. It had 11 million visitors in its first year. It was the first theme park anywhere to get that many visitors in its opening year.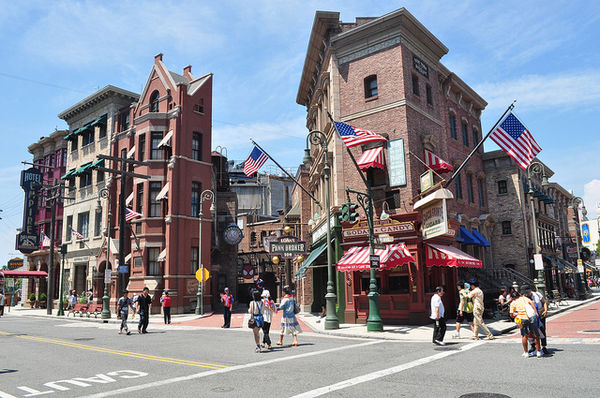 Osaka castle is a recreation of a 17th century castle that played an important role in the unification of Japan.The Castle has a authentic looking exterior but is a modern concrete building inside (complete with elevators).Osaka Castle Park is a large pleasant park with views of Osaka castle and its huge moats and castle walls. There are various historical attractions, gardens and food vendors in the park. On weekends buskers perform. When the weather is good, the park takes on a festive atmosphere (particularly on weekends).It's one of the best places in Osaka to do hanami (cherry blossom viewing). In many ways, the park is as good as the castle itself.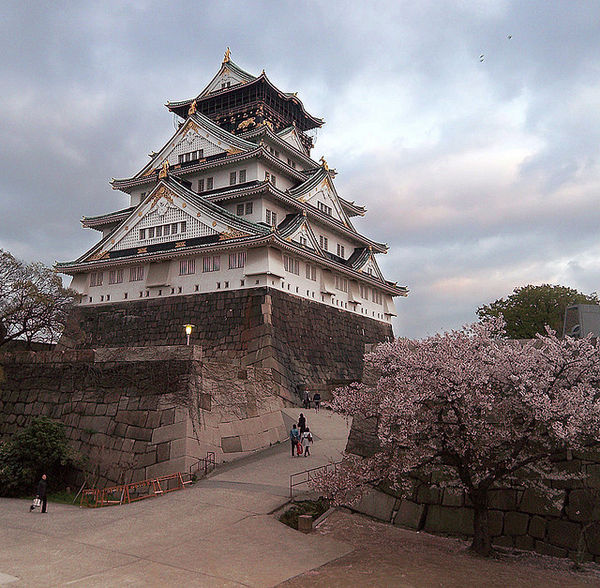 9. Shinsekai
Shinsekai has a colorful history. It was developed in 1912 — its streets were modeled after New York and Paris. One of the worlds largest amusement parks was built here — Luna Park. It's glory days peaked in 1923 after Luna Park experienced a series of suspicious fires and was closed.The area was largely destroyed in WWII. Today Shinsekai has a reputation as one of Japan's poorest and most dangerous areas. Despite all this, it's a interesting place to visit. It has loads of cheap restaurants, souvenir shops, mahjong clubs, and pachinko parlors. There are photograph opportunities at every turn.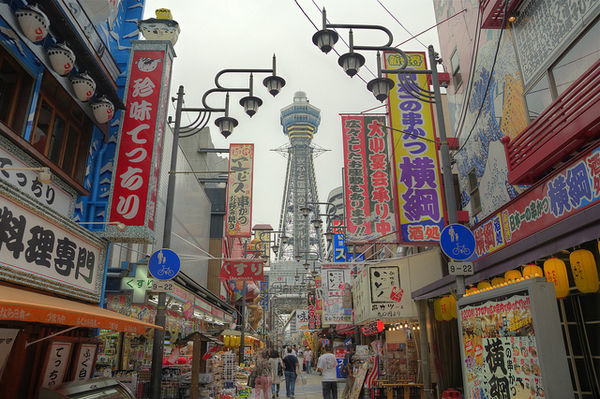 Abeno Harukas is the tallest skyscraper in Japan with an attractive two level observation deck that includes popular features such as windows in the restrooms and a small glass floor area.
11. Shitennoji Temple
Shitennoji was the first Buddhist temple constructed in Japan. Like most wooden temples in the country — it has burned down at various times in history. Each time its reconstruction was faithful to the 6th century original.The locals hold a variety of events and festivals at Shitennoji each year.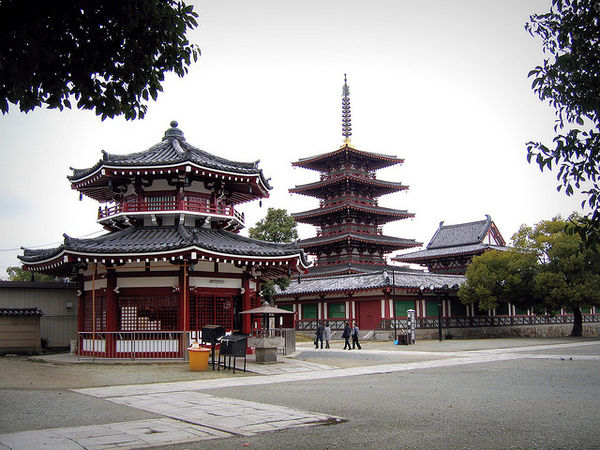 12. Umeda Joypolis Sega
Two floors of video games with a Ferris wheel on the roof. Recommended for its carnival atmosphere even if you're not a gamer. In addition to the usual assortment of video games and UFO catchers — Umeda Joypolis Sega features amusement park rides such as virtual skydiving.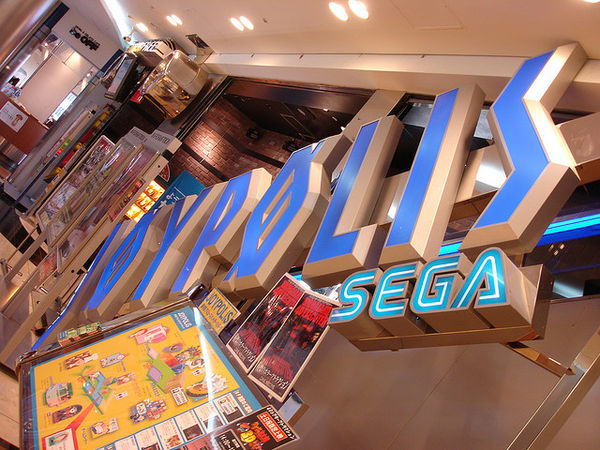 13. Osaka Aquarium Kaiyukan
Kaiyukan Aquarium is one of the largest aquariums in the world. Its theme is the Pacific Ring of Fire. Large fish are on display including a whale shark.A total of 27 tanks are designed to make the visitor feel they are under the sea with the fish. They are constructed using 346 tons of acrylic glass that hold 10,941 tons of water.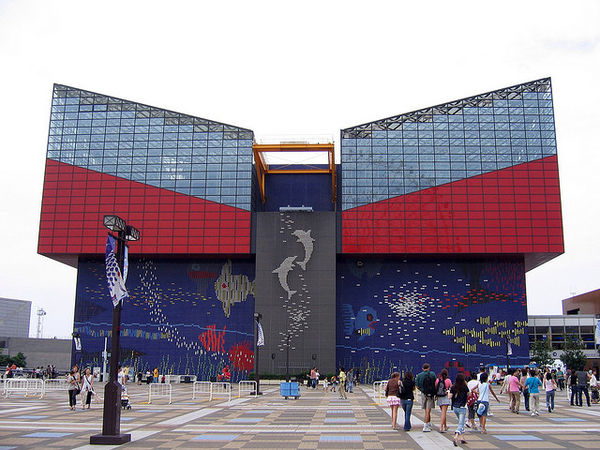 Quick Links
Best Paper Awards
Several best paper Awards SELECTED from different sessions will be given at the dinner banquet of ICVISP 2017.
---
Media Partner

Best Reviewers
We would like to thank all committee members, and they nominated the best reviewers as follow:
Dr. Zahid Akthar

University of Quebec, Montreal, Canada
Dr. Mohamed Arezki Mellal
M'Hamed Bougara University, Algeria
Dr Kassim S. Mwitondi
Sheffield Hallam University, UK
Paper Submission
Prospective authors are welcome to submit your research paper to ICVISP 2017 through the electronic submission system. If you are a new user, you need to sigh up firstly, (Only PDF file is acceptable in this system), for presenter,please submit the abstract via this system as well.
Please Download the Full paper template here:
FULL PAPER template.doc
Latex:
8.5x11 paper size kit.zip
*For full paper submission, page limit is 8. up to 3 extra pages are allowed for each paper but will assess $100/ per page.
Abstract Submission( Presenters): the submitted abstract should contain a sufficient summary of the paper and outline of goals, results and conclusion, including conveying sufficient understanding when read in isolation from the paper.
Abstract-Template.doc
Paper Acceptance Criteria
*Papers that do not contain an original research contribution will be rejected. Papers that are so badly written as not to be understandable will be rejected, as well as papers where authors engage in extensive self-plagiarism.
Ms. Anna H. M. Wong
Email: icvisp@iased.org
Tel:+852-30696823 (English)
Monday-Friday, 9:30am-12:00pm and 1:30pm-6:00pm