Message from the Conference Chair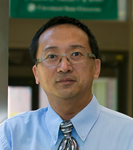 Prof. Wenbing Zhao
Cleveland State University, USA
As the conference chair of ICVISP 2018, and on behalf of our organising committee, I am pleased to hereby cordially welcome you to attend the 2nd International Conference on Vision, Image and Signal Processing (ICVISP-2018) in Las Vegas, Nevada, USA, the city that never sleeps.
In recent years, we have seen dramatic progress being made in the areas of computer vision, image and signal processing. Computer vision is fundamental to robotics research and development. With the availability of inexpensive, consumer-grade programmable depth cameras such as Microsoft Kinect, we are seeing many interesting computer vision based applications for rehabilitation, worker safety, medical operation, retail, gaming, and education, etc. Image processing is playing an ever-important role in security (such as facial and fingerprint recognition) and medical research and practice (such as the diagnosis of various diseases). Signal processing is the foundation for making sense of various information obtained from wearable devices and Internet of Things. Indeed, it is an exciting era to see our society being transformed by technology.
In 2017, we held the first ICVISP successfully in Osaka, Japan with 26 papers presented. The proceedings of ICVISP-2017 has already been included in IEEE Xplore Digital Library and indexed by EI: http://ieeexplore.ieee.org/xpl/mostRecentIssue.jsp?punumber=8121827. Presented papers at ICVISP-2018 will again be included in IEEE Xplore Digital Library. Furthermore, several journal special issues will be organized and selected papers will be invited for these special issues after extension.
We hope this conference provides a venue for researchers, developers, and industry practioners in the areas of computer vision, image and signal processing to share their discoveries, insight, and lessons learned, take home with exciting new ideas to further advance the state of the art and state of the practice in these areas, make new friends and forge fruitful collaborations.
I look forward to receiving your contributions and meeting you in Las Vegas, USA during ICVISP 2018.
Paper Submission
Prospective authors are welcome to submit your research paper to ICVISP 2018 through the Online submission system. If you are a new user, you need to sigh up firstly, (Only PDF file is acceptable in this system), for presenter,please submit the abstract via this system as well.
Please Download the Full paper template here:
Paper Template.zip
Abstract Submission( Presenters): the submitted abstract should contain a sufficient summary of the paper and outline of goals, results and conclusion, including conveying sufficient understanding when read in isolation from the paper.
Abstract-Template.doc
Paper Acceptance Criteria
*Papers that do not contain an original research contribution will be rejected. Papers that are so badly written as not to be understandable will be rejected, as well as papers where authors engage in extensive self-plagiarism.
Important Dates
Abstract Proposals

March 25, 2018


Full Paper

March 31, 2018

Final Notification

April 15, 2018

Final Registration

April 30, 2018


Final Paper

April 30, 2018


ICVISP 2018

August 27-29,

2018
Publication and Indexing
All accepted papers will be published in the digital conference proceedings which will send to be indexed by all major citation databases such as Ei Compendex, SCOPUS, Google Scholar, Cambridge Scientific Abstracts (CSA), Inspec, SCImago Journal & Country Rank (SJR), EBSCO, CrossRef, Thomson Reuters (WoS), etc.
A selection of papers will be chosen to be recommended to be published in international journals.
Technical Program Committee
Prof. C. P. Chung




Prof. A. M Al-bakry







Prof. A. M.

Mohammadi

Prof. M. Eshaghian-Wilner
More members (Click)
Contact
Ms. Yedda Q. YE
Email: icvisp@iased.org
Tel:+852-30696823 (English)