Reviewers.Volunteers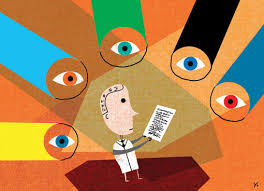 Join us as reviewer
Paper reviewers are an especially important piece to the entire publication process. As a reviewer, you will both gain valuable experience, and develop important networking relationships. Your expertise and experience are crucial elements for being able to properly review and asses the contents and quality of submissions. We value reviewer's participation in joining us to shape and contribute to the conference and the overall field.
Thus, it's our pleasure to cordially invite preeminent experts to join of an international review board and serve as a scientific committee member for our conferences.
Please contact with us and send your resume to: icvisp@iased.org.


Volunteers
Volunteers are expected to be well-organized, punctual, respectful and helpful during our conference. It is very beneficial for you to become knowledgeable on various aspects of the conference, such as traffic & tour information, event locations, dining room location, layout of convention center, general conference information, and program details.etc.
Students will receive priority during the selection process.
Examples of shifts are as follows:
lAssisting with registration and directing traffic for attendees and invited speakers.
lWorking in registration area to hand out materials and totebags
lProviding local information and conference directions in registration area
lWorking as monitor for sessions, handing out and collecting session evaluations

To get involved by donating some of your time during the conference as a volunteer, Please download the application form here: Volunteer Application and contact the Volunteer Coordinators at: icvisp@iased.org
Best Reviewers
We would like to thank all committee members, and they nominated the best reviewers as follow:
Dr. Zahid Akthar

University of Quebec, Montreal, Canada
Dr. Mohamed Arezki Mellal
M'Hamed Bougara University, Algeria
Dr Kassim S. Mwitondi
Sheffield Hallam University, UK
Quick Links
---
Media Partner

Contact
Ms. Betty Y. Chan
Email: icvisp@iased.org
Tel:+852-30696823 (English)
| | | | | |
| --- | --- | --- | --- | --- |
| | | | | |
| Prof. Wenbing Zhao | Prof. Abbas M Al-bakry | Prof. Magdy A. El-Moursy | Prof. Hamid Ali Abed AL-Asadi | Dr. Giovanni Maria Farinella |
| | | | | |
| Dr. Zahid Akthar | Prof. Mary Eshaghian-Wilner | Prof. Ching Pak Chung | Prof. Amin Malek Mohammadi | Dr. Natasa Zivic |